MIGRAINE
Migraine attacks can last for hours to days and can produce sharp throbbing pain or a pulsing feeling, typically on one side of the head. It's often followed by nausea, vomiting, and severe ticklishness to light and sound. The pain can be so critical that it conflicts with the day to day pursuits.
For many people, a signal symptom known as an aura begins before or with the headache. An aura can incorporate visual irregularities, such as beams of light or blind spots, or other confusions, such as stinging on one side of the face or in an arm or leg.
SYMPTOMS
Migraines, which often begin in childhood, adolescence, or early adulthood, can advance through four steps: prodrome, aura, attack, and post-drome. It's not necessary that every individual with a migraine will go through all these stages.
(A) PRODROME
A day prior to the onset of a migraine, the subject might notice mental changes that hint of an upcoming migraine, including:
(B) AURA
There are individuals who experience an aura before or during migraines. Auras are reversible signs of the nervous system and are normally visual, but can also include other irregularities. Each sign usually begins constantly, builds up over some minutes, and may last for more than twenty minutes or lat for an hour.
Examples of migraine aura include:
Visible phenomena, such as perceiving different shapes, shimmering spots, or streaks of light

Pins and needles feelings in leg or arms.

Weakness in the face or one side of the body

Listening to noises or music

Unusual jerking or other movements
ATTACK
A migraine usually lasts from four to 72 hours if untreated.
POST-DROME
After a migraine strike, you may be feeling exhausted, disoriented, and flooded out for up to a day. Some people arrive thinking ecstatic. The unexpected head action might take on the pain again briefly.
MEET OUR DOCTORS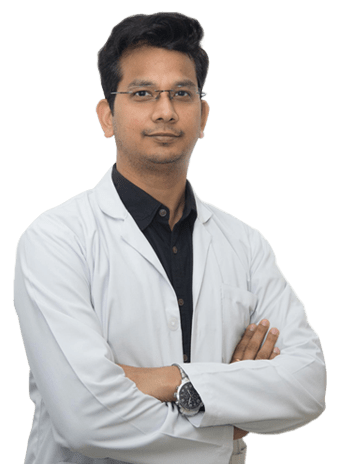 Dr. Shailesh Jain is a Senior Consultant Neurosurgeon at Arihant Neurospine Clinic in North Delhi. He is a highly recognized and widely commended neurosurgeon in Delhi in the field of modern spine surgeries today. His unparallel expertise in managing spine problems and disorders makes him the best neurosurgeon In Delhi NCR.
Being one of the Best Neurosurgeon In Delhi, India Dr. Shailesh Jain has more than 15 years of neurosurgical experience and has expertise in treating a wide spectrum of neurosurgical treatment which includes Brain Tumor Surgery, Brain Aneurysm Treatment, Traumatic Brain Injury (TBI), Brain Aneurysm Coiling, Spinal Diseases, Pediatric Neurosurgery, Carotid stenting, etc.
OUR PATIENTS SAY
Sed ut perspiciatis unde omnis iste natus error sit voluptatem accusantium doloremque laudantium, totam rem aperiam, eaque ipsa quae ab illo inventore veritatis et quasi architecto beatae
At vero eos et accusamus et iusto odio dignissimos ducimus qui blanditiis praesentium voluptatum deleniti atque
At vero eos et accusamus et iusto odio dignissimos ducimus qui blanditiis praesentium voluptatum deleniti atque
At vero eos et accusamus et iusto odio dignissimos ducimus qui blanditiis praesentium voluptatum deleniti atque
Make An Appointment
Advanced medical care and health technology have enabled doctors and specialists to cure complex medical issues related to spine and neuro disorders. We have combined the expertise of experienced consultants and neuro-surgeon with the latest medical technology to achieve quality and least invasive treatment.
MAKE AN APPOINTMENT
We're available 6 days a week and have specific office hours with Dr Shaliesh Jain and all staff.