Trigeminal neuralgia is a nerve disease of the face also known as tic douloureux. It produces abrupt, facial pain, particularly in the lower face and jaw and sometimes in the area encompassing the nose, ears, eyes, or lips. This sharp, stabbing, pulsing shock-like pain is generated by irritation of the trigeminal nerve, which has its branches going to the forehead, cheek, and lower jaw. It normally is limited to one side of the face.
It's true that trigeminal neuralgia cannot always be cured, there are treatments available to lighten the stabbing pain. Usually, anticonvulsive medicines are the first therapy option. Surgery can be the last option for those who are not showing any reaction to the medications or for those who experience serious side effects from the medications.
BRANCHES OF TRIGEMINAL
NERVE AND THE AREA OF PAIN
Ophthalmic: Impacts  the forehead, nose, and eyes

Maxillary:  Impacts  the lower eyelid, side of nose, cheek, gum, lip, and upper teeth

Mandibular : Impacts the jaw, lower teeth, gum, and lower lip
SYMPTOMS
The symptoms that may occur include
Occasional twinges of mild pain remaining from a few seconds to several minutes

Critical episodes of shooting, jabbing pain that seem like electric shocks

Unexpected attacks of pain triggered by stimuli that are usually not severe, such as by touching the face, chewing, speaking, or brushing the teeth

Fits of pain which last from a couple of seconds to a couple of minutes

Occurrences of cluster attacks, which may last  longer, but between them, there will be no pain
Causes
The trigeminal nerve is a pair of cranial nerves in the head. It is the nerve liable for providing a response to the face. The pain connected with trigeminal neuralgia depicts an irritation of the nerve. The cause of the pain normally is due to contact within a healthy artery or vein and the trigeminal nerve at the bottom of the brain. This sets pressure on the nerve as it invades the brain and makes the nerve to misfire. Other causes of trigeminal neuralgia include the pressure of a tumor on the nerve.
Meet Our Doctor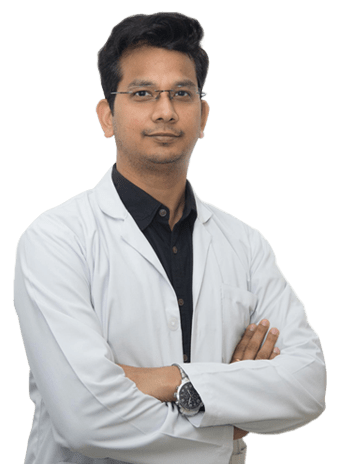 Dr. Shailesh Jain is a Senior Consultant Neurosurgeon at Arihant Neurospine Clinic in North Delhi. He is a highly recognized and widely commended neurosurgeon in Delhi in the field of modern spine surgeries today. His unparallel expertise in managing spine problems and disorders makes him the best neurosurgeon In Delhi NCR.
Being one of the Best Neurosurgeon In Delhi, India Dr. Shailesh Jain has more than 15 years of neurosurgical experience and has expertise in treating a wide spectrum of neurosurgical treatment which includes Brain Tumor Surgery, Brain Aneurysm Treatment, Traumatic Brain Injury (TBI), Brain Aneurysm Coiling, Spinal Diseases, Pediatric Neurosurgery, Carotid stenting, etc.
OUR PATIENTS SAY
Sed ut perspiciatis unde omnis iste natus error sit voluptatem accusantium doloremque laudantium, totam rem aperiam, eaque ipsa quae ab illo inventore veritatis et quasi architecto beatae
At vero eos et accusamus et iusto odio dignissimos ducimus qui blanditiis praesentium voluptatum deleniti atque
At vero eos et accusamus et iusto odio dignissimos ducimus qui blanditiis praesentium voluptatum deleniti atque
At vero eos et accusamus et iusto odio dignissimos ducimus qui blanditiis praesentium voluptatum deleniti atque
Make An Appointment
Advanced medical care and health technology have enabled doctors and specialists to cure complex medical issues related to spine and neuro disorders. We have combined the expertise of experienced consultants and neuro-surgeon with the latest medical technology to achieve quality and least invasive treatment.
MAKE AN APPOINTMENT
We're available 6 days a week and have specific office hours with Dr Shaliesh Jain and all staff.